Profile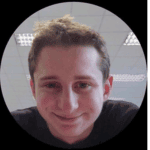 Oliver Gordon
Thank you so much everybody! It's been a fantastic event. I hope you all took away some great information - it's been lovely answering your questions! Big thanks to the organisers and other people in the Nobellium zone - it's been grand!
Curriculum Vitae
Education:

Wetherby High School (2007-2014), University of Nottingham (2014-2018)

Qualifications:

MSci (Hons). A Levels in Maths, Physics, Chemistry , AS Biology, 11 GCSE, includiong a C in French (most proud of this one!)

Work History:

Donisthorpe Care Home, Moor Allerton Golf Club, University of Nottingham

Current Job:

PhD Researcher at The University of Nottingham

Employer:

University of Nottingham
Favourite thing to do in my job: Making something that nobody has done before, and seeing it work!

About Me

I teach computers how to "think" like people, which helps us build shapes with atoms 10 million times smaller than a millimetre!

Read more

I'm a scientist (and current owner of a poorly left arm 😭) at the University of Nottingham. My job is to use computer intelligence to learn about atoms.

I got into science in primary school when I was 8. I wasn't very smart, wasn't very tall (I'm still not!) and got picked on a lot. My teacher, Mr Mallet, bought me a book called "The Body Owners Handbook" and I just took to it – that book felt like my only friend at times. I don't think I actually expected to be made to feel so happy to learn things that interested me. 15 years on, it has just moved with me to my first home, and was the first thing I wanted to pack. My grandpa also really wanted to be a scientist, but back in those days not as many people could go to unversity, so he didn't go. I found an amazing school textbook from 1944 that he bought – this is super interesting to me personally because he was too old for school at the time, (and worked for the RAF). So he just bought this book because he wanted to find out more. I like to think I do a PhD and do my research for him. It's also a super interesting book because of just how old fashioned the science is. Some of the stuff he (and your teachers!) were taught is now known to be flat out wrong today. I think it's exciting that my work, stuff that's seen as super fancy and high tech –  could become completely wrong and outdated in 80 years. Because that's science, and that means that I contributed to human knowledge, and that's why I love it. It's your own part of the world, your own part of human history, and your own "legacy" that nobody can take away.

I love to play music – I play the cornet (a small trumpet), normal trumpet, flugelhorn, and a bit of piano. I play them in a brass band – we even get to go and compete with other bands and universities, too. (I'm also an amazing singer – just don't ask my friends…)

My greatest achievement is probably that I can quote (and "sing") just under 4 hours of light opera off by heart (if you've ever seen the Simpsons episode where they go into hiding from Sideshow Bob and end up singing on a boat, that's a reference to the writers, Gilbert and Sullivan.)

My Work

PhD In AI/Nanoscience, Taking Better "Pictures" of Atoms

Read more

I'm what's called a "nanoscientist." One of the things we like to do is look at "atoms", such as Hydrogen, Silicon (which makes up your computers) and Gold. These are some of the building blocks of the entire universe, so it's important that we understand what they look like and how they interact with each other. Sometimes we just want to look at individual ones in a certain direction, but the majority of the time we want to make new molecules with specific properties. We also don't want to have to build them all by hand, so understanding how they interact at a simple level is super important, because we can then make them build themselves!

Because atoms are tiny (Make a 1 millimetre gap in your hands… now make it 10 times smaller, now do it again six times!), we need super fancy technology to be able to "see" them. The microscopes that biologists use are about 1 million times less powerful. So instead of using visible light to see them, my team has several of these things called "scanning probe microscopes." Not only do they let us see individual atoms, but they even let us move them about. They work using quantum mechanics.

https://www.youtube.com/watch?v=oSCX78-8-q0

It's surprisingly simple, too.  My boss taught his 8 year old daughter to do it!

These machines are absolutely massive, and cost over £1 million each! I'm super lucky, because in Nottingham we have more than 4 of these for my research group for us to share. Here's one of them.

So where does this computery stuff come in?

Well, like you, computers are very good at following exact instructions (take a mug, put a teabag in it, add boiling water, wait 120 seconds, add 10ml of milk, add 1 teaspoon of sugar, thank you for the cuppa!). But unlike you, they don't have any common sense! So if we ask them to do something harder (is this a cat? is this a dog? is this bit of skin a cat's whisker or a piece of fur?), we can't turn it into exact instructions 🙁

This is the problem we have when we look at atoms. Because everything we do is so teeny tiny, a tiny change in our sensor completely changes what we see! We may go from seeing circles, to blurry circles, squiggles, ovals, and so on (this surface is silicon, and is MEANT to look like the picture in (a). Except as you can see in the other photos, it doesn't).

These are things we can't separate apart with an exact list of instructions – so even though it's easy for a primary school student to see the shapes, a computer can't! And because fixing what's happened can take up nearly half of every scientist's day, I'm responsible (along with several other people in the world) for trying to teach computers to help do it for us. This sounds fancy, but the truth is that we think "hey, this might work," and try something and see. There isn't a fancy method, there isn't a big robot, there isn't a huge amount of smarts required. My job is basically to just try stuff until I think it works, then tell other scientists what works and what doesn't.

Having said that, I am super lucky because you need computers designed for gaming to do this learning, so I have no choice but to use a really fancy computer (this is 1 of the 2 I get to use).

My Typical Day

Program computers, drink tea, look at atoms, ask good questions, drink more tea, teach our computers to learn about atoms, go home, drink tea, repeat.

Read more

The University of Nottingham is a public park, so every day I get walk to go to work through a forest and along a lake. It wakes me up, and gets me ready for a day of thinking about science. Here's me walking to my department on a good day last year, with my final university project:

(I'm jumping here, by the way. I'm not standing on the water, as much as I wish I could.)

When I get to my office, the first thing I normally do is look at the data our computers calculated overnight (unlike us, computers don't need to sleep, and don't complain about long hours). We figure out and write down what has happened, and if we think what we did helped the computer to learn better or not, look into that a bit more. We then come up with some things to try for the next day – these have to be ready before I can go home!

At the moment, our technology is at a point where it takes about 30 minutes to figure out if the image is good or not, and we're trying to make it instant, so this is what we have been focusing on doing.

I normally then go to the people working in the lab and discuss what I am doing with them. One of the most important things is to ask each other questions! No scientist can do it by themselves – they need friends to ask for help and ideas! They also know far more than me about how our machines operate – there's no point in making fancy computer code that will be worthless in the real world! After collating some ideas, we all stop working at 11am to have a break, so we can do just that! My research group also all meet up every week or two and tell each other what we are all doing, so we can share ideas better. I bring cookies if I have a lot to say!

So I then spend my day asking questions, answering emails from other scientists in the world who we get to work with (for me, it's Canada and the Netherlands at the moment), writing computer code and testing my ideas. Once everything is ready to run, I'm normally done for a day. I finish what I'm doing, and walk with my friends back along the lake and home, where I can rest up for another day of work!

I also do other things I do to help out the school of physics, like going to primary schools to talk about physics and showing new students doing A Levels exactly why they should come and come and study physics.

What I'd do with the prize money

Bring more physics to more schools

Read more

One of the great things I get to take part in at Nottingham is bringing physics to schools and the general public. I'd like to use the money to fund more school visits, bringing along scientists from the university to do experiments like these ones we did by the canals at night:

We also have a massive inflatable planetarium that we use to teach children about space and the stars, and I'd like to use the money to fund more school visits for it in the future. We will be at Wollaton park next month (if you've ever seen any of the recent batman films, it's used as Wayne manor).

My Interview

How would you describe yourself in 3 words?

Short, Slightly Stubborn.

What's the best thing you've ever done in your career?

Finishing my degree research. I spent 6 months working on a project with my best friend

What or who inspired you to follow your career?

My grandparents, who told me to do what makes me happy no matter what! (even if it was taking that book to their house to explain why their skin was wrinkly!)

What was your favourite subject at school?

English

What did you want to be after you left school?

I didn't know. I knew I liked science, but that was it. I don't believe you should be scared if you don't know what to do. I just knew I wanted to do something that made me excited to wake up in the morning!

Were you ever in trouble at school?

Maybe....

If you weren't doing this job, what would you choose instead?

What I do now, but for a company, rather than public research.

Who is your favourite singer or band?

Daft Punk

What's your favourite food?

If I cook it myself, anything! You get to eat your success!

What is the most fun thing you've done?

Getting to compete with other universities with my brass band as the underdogs, then getting on the podium!

If you had 3 wishes for yourself what would they be? - be honest!

Be better at playing music, spent more time with my cat, get more science done

Tell us a joke.

What do biologists do all day? Take cell-fies!
---
---
---