Profile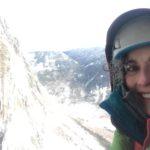 Leigh Kesler
Curriculum Vitae
Education:

BS, University of Illinois. PhD, Massachusetts Institute of Technology

Qualifications:

US Particle Accelerator School attendee, Kaufman Teaching Certificate, Phd at MIT, Wilderness First Responder,

Work History:

Previous work: Graduate research assistant at MIT, undergraduate research assistant at UIUC. Internships: Los Alamos National Lab, Exelon Corporation, Lawrence Livermore National Lab

Current Job:

Current job: Postdoc at MIT.
Favourite thing to do in my job: Run a particle accelerator

About Me

I live and work in Cambridge, MA, USA. I enjoy escaping the city for the mountains on the weekends...

Read more

I live and work in Cambridge, MA, USA. I enjoy escaping the city for the mountains on the weekends, where I hike, rock and ice climb, and find other ways to explore the great outdoors. I love dogs, though I don't currently own one, and I am looking forward to adopting one in the near future. When I'm not in the woods or the lab, I also like to read, listen to podcasts (favorites: Hardcore History and The Infinite Monkey Cage), watch TV (current shows: Silicon Valley and The Marvelous Mrs. Maisel), read (currently reading: Alexander Hamilton Paperback by Ron Chernow), and craft, especially cross stitching.

My Work

I study radiation damage in materials...

Read more

I study radiation damage in materials. Specifically, I use a particle accelerator to create energetic ions which can be used to imitate the damage created by the neutrons that damage materials in fission and fusion reactors. After damaging materials, I study their properties and compare them to irradiated materials.  By understanding how radiation damages material, we can design better reactors, and enable the development of fusion as a clean source of energy.

My Typical Day

It's hard to describe a typical day in my lab!

Read more

It's hard to describe a typical day in my lab! There are lots of "typical days". A lot of days are spent running experiments on one of two particle accelerators where I do most of my research.

Days that I run experiments are very important, but can be long and not very exciting. Occasionally, though, these days are really exciting because I learn something new about radiation!

I also spend a lot of time building and designing radiation targets for these accelerators.

What I'd do with the prize money

Building new demos for my lab to teach students about science!

Read more

The department (Nuclear Science and Engineering) and the research center (Plasma Science and Fusion Center) at MIT where I did my PhD work both have a lot of cool demonstrations that they use to educate kids and the public about fusion, nuclear engineering, and science in general. These demos could use some refurbishment, and some additions of new projects, and I would like to use the money to help make these projects better!

My Interview

How would you describe yourself in 3 words?

Science. Climbing. Loud.

What's the best thing you've ever done in your career?

Successfully defending my PhD.

What or who inspired you to follow your career?

My dad encouraged me to learn more about fusion and how it could change the world.

What was your favourite subject at school?

Chemistry, followed by English

What did you want to be after you left school?

A scientist!

Were you ever in trouble at school?

Occasionally, I would distract my classmates from their work.

If you weren't doing this job, what would you choose instead?

Being a writer.

Who is your favourite singer or band?

Merle Haggard.

What's your favourite food?

Pasta.

What is the most fun thing you've done?

Backpacking in New Zealand.

If you had 3 wishes for yourself what would they be? - be honest!

1. See fusion energy put power on the grid. 2. Make the first ascent of a rock climb. 3. Get a dog.

Tell us a joke.

I would make a science joke, but all the good ones argon.
---
---