Profile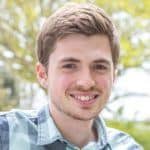 David Sünderhauf
Not long left in this competition! :D I'll try and get through the last batch of questions tonight :)
Curriculum Vitae
Education:

Helmholtz-Gymnasium Heidelberg (Germany), University of Aberdeen (Scotland), University of Exeter (Cornwall)

Qualifications:

BSc (Hons) Immunology, MbyRes Biological Sciences.

Work History:

Part-time: Iceland Foods, Wetherspoons. Full-time: /

Current Job:

PhD student

Employer:
Favourite thing to do in my job: Cloning - copy & pasting DNA

About Me

I like exploring Cornwall, and love Star Wars.

Read more

I live in Cornwall with my fiancée. On a day off, we love exploring Cornwall together and we are desperate to get a dog (any will do!). I'm from Germany originally, but have lived in Scotland for several years and am now in Cornwall.

I'm a huge Star Wars fan – very excited for Episode IX in December! I also enjoy eating and exploring new foods.

My Work

Antibiotic Resistance & Biotechnology.

Read more

Antibiotic Resistance is a huge problem – it means bacterial infections can't be treated with drugs anymore. I use a biotechnology called CRISPR (which cuts DNA) to remove these 'bad' genes causing problems from bacteria, which means they can be killed with antibiotics again.

Day-to-day, this means I grow bacteria in liquid, plate them out, and also do "molecular cloning", a way of copy-pasting DNA to make it do what I want.

More info: DNA is a long string packed full of information like a recipe book, telling a living being what it is. For example, your own DNA contains the 'recipe' for all your different organs, and might say that you have brown hair and blue eyes.

Bacteria resistant to antibiotics have an extra piece of DNA telling them how to defend themselves against antibiotics. This means that bacterial infections with these "antibiotic resistance genes" cannot be treated with common drugs anymore.

In my research, I am using CRISPR, which is a biotechnology that can cut DNA, to find and remove only these 'bad' antibiotic resistance genes, which means we will be able to treat these bacterial infections again.

My Typical Day

Emails - Lab work - Lunch - Coffee - Reading/Writing

Read more

While it is true that not every day is the same, they do all usually consist of similar elements. I start off with replying to some emails and making myself a to-do list, then often head off into the lab (see "my work"). Alternatively, I work at my desk, for example figuring out what to do or visualising and playing around with gene sequences.

After lunch, getting back some energy with coffee is very important, and then I either continue with lab/desk work or do some scientific reading or writing.

Often, a meeting is thrown in somewhere as well.

What I'd do with the prize money

Donate to BSA Cornwall for use towards outreach science activities.

Read more

In my spare time, I actually volunteer as a member of the British Science Association – Cornwall Branch (BSA Cornwall) on the committee. If I win, I would donate the prize money to the branch for use to future outreach events. For example, we are currently planning a mini-festival (open to the public, especially families) celebrating bees, pollinators and urban wildlife. Other events we set up include Café-Sci style discussions as well as guided walks exploring the science behind beautiful locations in Cornwall.

My Interview

How would you describe yourself in 3 words?

Enthusiastic, Optimistic, Curious

What's the best thing you've ever done in your career?

Gone to present my research at different conferences.

What or who inspired you to follow your career?

The fact that there are so many phages (viruses of bacteria) in the world, that if you gathered them and chained them all up the chain would be longer than our galaxy (!)

What was your favourite subject at school?

Biology (not at first though... I used to hate it!)

What did you want to be after you left school?

I had absolutely no idea

Were you ever in trouble at school?

Just sometimes

If you weren't doing this job, what would you choose instead?

Jedi Knight

Who is your favourite singer or band?

Green Day (went to see them live in London two years ago!)

What's your favourite food?

Curry (can't beat a good homemade one!)

What is the most fun thing you've done?

Wildlife tour through Scotland (2 weeks in wilderness)

If you had 3 wishes for yourself what would they be? - be honest!

A dog, a house, a nice holiday.

Tell us a joke.

What do you call a man with a seagull on his head? Cliff.
---
---