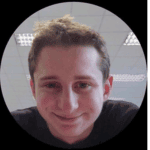 Hi again, everybody.
Thank you so much for picking me as your winner! It has been a real pleasure to take part in this event, and I've certainly taken away a lot.
I also want to give a huge thank you to the organisers of I'm a Scientist, and particularly the other scientists. Not only have I learnt from you, the students, but I've also learnt so much from them, too! We've had a lot of fun sharing our own stories, memories and scientific mishaps (my favourite being Jordan exploding a machine filled with blood. Oops!).
As a PhD researcher, you can end up spending a lot of time worrying about how good you are at talking to the general public, worrying about the quality of your work, and worrying if it's actually worth the time you dedicate to it! From my own point of view, being told that you find my work interesting and exciting has been a real inspiration to me. As scientists, we also worry about people no longer caring for science or understanding its importance. But it's so clear to see that the future of science is in good hands – you clearly care about about the need to develop human knowledge (even if you don't want to be a scientist in future). From the discussions about science education to just your general willingness to challenge the world and ideas around you, there's some been some fantastic scientific thinking going on.
Events like this are fantastic – although I have done quite a lot of outreach and experiments with the general public over the past few years (and will be using the prize money to doing more of this), I think we all agree that I'm a Scientist has been a fantastic event. It's also given us the chance to see several of you on multiple occasions – not only have we been able to see your scientific skills improve, but we got to see people starting to want to find out more about the world. That's so humbling. Continue reading →